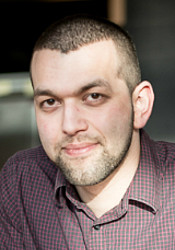 University of Osnabrück
Ali Konyali currently works at the Sociology and Social Geography department of the Institut für Migrationsforschung und Interkulturelle Studien ( IMIS) at the University of Osnabrück.
M.A., seit 2016 Wissenschaftlicher Mitarbeiter im DFG-Projekt "Konfigurierungen von ›Islam‹ und ›Muslimen‹ auf lokaler Ebene in Deutschland" am IMIS
Ali was a PhD candidate working within the framework of the ERC funded ELITES – Pathways to Success project at the Department of Sociology at Erasmus University Rotterdam (EUR).
His research within ELITES focused on the emergence of Turkish second generation elites within the corporate business sector in Western Europe.
Before joining EUR, Konyali obtained a Bachelor's degree in Arts and Culture (2009) and an Master's degree in European Studies (2010) at the Faculty of Arts and Social Sciences of Maastricht University. In 2011 he obtained a MA in International Migration and Ethnic Relations (2011) at Malmö University.
From September 2011 until February 2012 he worked at the Department of Political Science of Maastricht University as a junior lecturer contributing to the teaching of the European Studies Bachelor programme.
Profile (PDF)