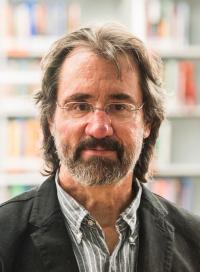 Max Planck Institute
Steve Vertovec is Managing Director at the Max-Planck Institute for the Study of Religious and Ethnic Diversity, Honorary Professor of Sociology and Ethnology at the University of Göttingen, Germany, and Supernumerary Fellow at Linacre College, Oxford. Previously he was Professor of Transnational Anthropology at the Institute of Social and Cultural Anthropology, University of Oxford, and Founding Director of the Economic and Social Research Council's Centre on Migration, Policy and Society (COMPAS). At Oxford Steve had also served as the Director of the ESRC's national research programme on Transnational Communities.
Steve's work involves the management of numerous interdisciplinary research teams and the critical examination of concepts surrounding international migration, transnational social formations, and contexts of urban super-diversity.
Currently he is co-Editor of the journal Global Networks and Editor of the Palgrave book series 'Global Diversities'. Steve is author of five books including Transnationalism (Routledge, 2009) and Super-diversity (Routledge, forthcoming), over forty refereed journal articles and seventy articles in edited works. He is editor or co-editor of thirty-five volumes including Islam in Europe (Macmillan, 1997), Conceiving Cosmopolitanism (Oxford University Press, 2003), The Multicultural Backlash (Routledge 2010), and Diversities Old and New (Palgrave, 2015).
Profile on Max Planck Institute