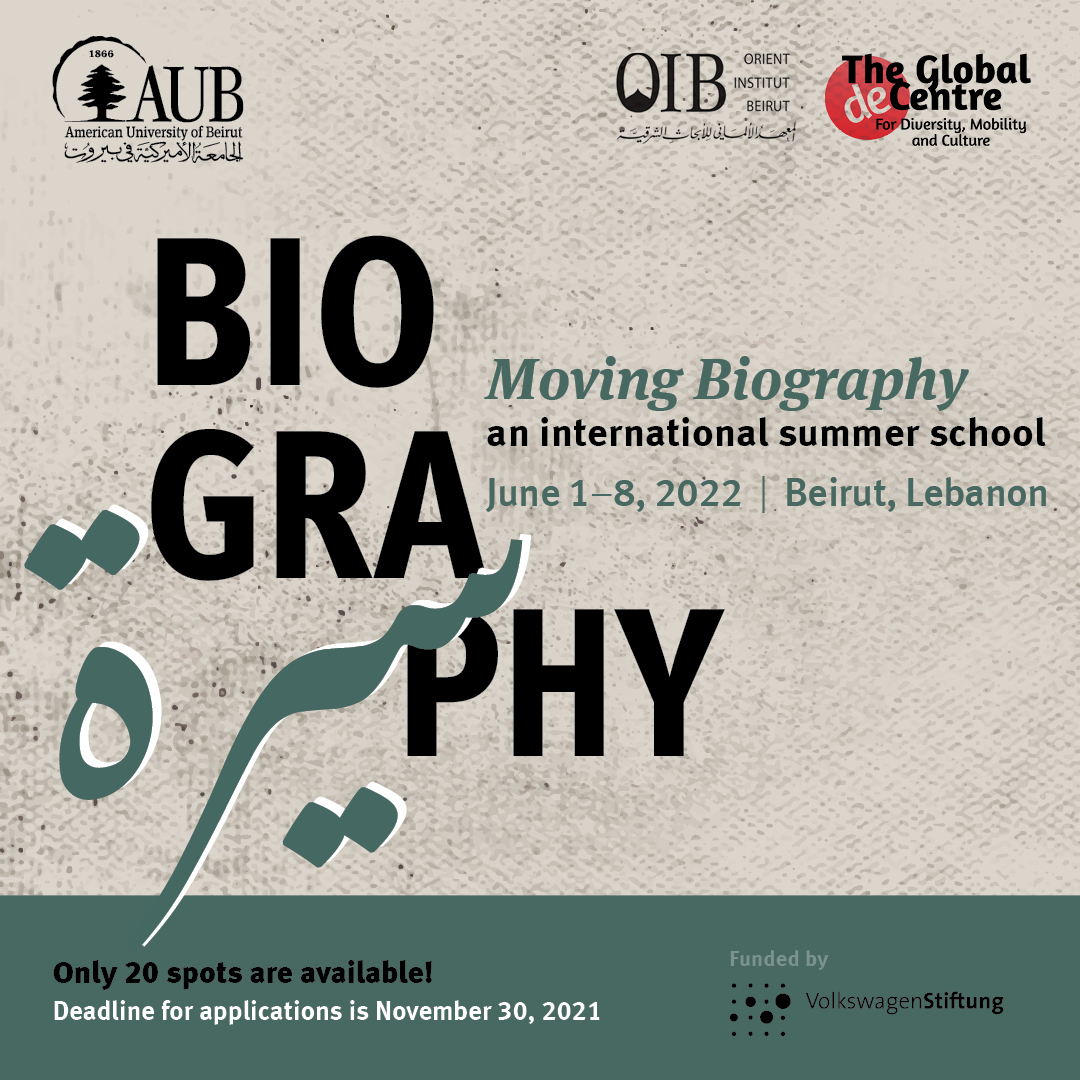 PROGRAM
DOWNLOAD LIST OF ABSTRACTS AND SHORT BIOS HERE: Moving Bio abstracts and bios per Working Group.
Wednesday, 1 June 2022
Arrival of participants
19.30  Welcome dinner at Three O Nine hotel (rooftop)
Thursday, 2 June 2022 (OIB)
09.10 Transfer from the hotel to the OIB (by taxi)
09.30 – 11.00  Introduction (Peggy Levitt, Nadia von Maltzahn, Sonja Mejcher-Atassi, Kirsten Scheid)
11.00 – 11.30 Coffee break
11.30 – 13.00  Theoretical considerations I: Social and Historical Context: How Biographies Move: The spatial and structural properties of trans-regional literary fields (led by Peggy Levitt)
13.00 – 14.30  Lunch
14:30 – 16:30 Project presentation I
Working group A:
Débora Gerbaudo Suárez (National University of San Martin): Local Identity and Transnational Citizenship. Community-Based Participation among Paraguayan Youth and the Second Generation in Two Cities: Buenos Aires and Misiones.
Elham Shahsavar Zadeh (York University): Reading Iranianness through the life of Naqsh-e Jahan Square
Working group B:
Hunter Bandy (Université Paris Sciences et Lettres): Biography of Niẓām al-Dīn Aḥmad Gīlānī
Rosy Beyhom (OIB): Finding the musical network in al-Wāfī bil-Wafayāt
16:30 – 17:00 Coffee break
17.00 – 19.30  Plenary session I (moderated by Sonja Mejcher-Atassi): Books/Biographies in the Making: two talks by
Daniel Schönpflug (Wissenschaftskolleg zu Berlin): Biography: Struggling with the Success of a Genre
Sherene Seikaly (UC Santa Barbara): Reading in Time: On the Question of Palestine – virtual
Reception at the OIB
Friday, 3 June (AUB)
09.30 – 11.00  Field visit 1: AUB Archives & Special Collections
11.00 – 11.30  Coffee break
11.30 – 13.00  Theoretical considerations II: Questions of Archive (led by Sonja Mejcher-Atassi),
13.00 – 14.30  Lunch
14.30 – 16.30  Project presentation II
Working group A: (Nicely 320)
Yvonne Albers (Freie Universität Berlin/Forum Transregionale Studien Berlin): What's in a Name? Writing the Intellectual Biography of a Late 20th Century Arab Cultural Magazine
Ophélie Mercier (Universiteit Gent, Belgium): Navigating Value and Recognition within the International Arts Field: Between Self-Definition and Assigned Identities, Case Study of Egyptian Artists Residing in Europe
Working group B: (Nicely 321)
Gürzat Kami (Marmara University): Where does the Family Stand? Contextualizing the Life Story of a Scholar in the Early Modern Ottoman Damascus
Ayşegül Koca (Ludwig Maximilian University): Guardians of an Empire, Founders of a Republic: The Lives of the 1902 Graduates of the Ottoman Imperial Military Staff College
16:30 – 17:00  Coffee break
17.00 – 18.30  Plenary session II (moderated by Sonja Mejcher-Atassi) IFI Auditorium: A Conversation on Social and Literary Biographies in Palestine and Egypt with Marilyn Booth (Oxford) and Salim Tamari (Birzeit) – hybrid
18:30 – 20:00  Field visit 2: Walk to Saleh Barakat Gallery exhibition opening of Azza Abo Rabieh
20.15 Dinner at t-Marbouta
Saturday, 4 June (OIB)
11:00 – 13:00  Project presentation III
Working group A:
Anahi Alviso-Marino (Ecole des Ponts ParisTech/University Gustave Eiffel): Mapping Monument Stories
Melanie J. Sindelar (CEU, Vienna): Gulf Futurism: The Biograph(ies) of an Artistic Movement
Working group B:
Hiyem Cheurfa (Larbi Tebessi University, Algeria): Contemporary Arab Women's Life Writing and the Politics of Resistance
Sara Hegazi (Alexandria University): Life Narratives in a Selection of Contemporary Trauma Literature from Egypt
13.00 – 14.30  Lunch
14.30 – 15.30  Project presentation IV
Working group A:
Flavia Malusardi (LAWHA/OIB and Ca'Foscari University of Venice): Janine Rubeiz: Biographies as key to art history
Working group B:
Farida Begum (Colgate University): A Friend of One's Own: Friendships, Sociality and Everyday Interactions in Bengal
16.00 – 18.00  Field visit 3: Guided walk from Riad El Solh through the quarters affected by the August 4 explosion, with Petra Serhal (please wear comfortable shoes and bring a hat)
Sunday, 5 June
10.00 – 17.00  Field visit 4: Aref El Rayess Foundation in Aley followed by lunch in the mountains
Monday, 6 June (Sursock Museum)
09.10 Transfer from the hotel to the Sursock Museum (by taxi)
09.30 – 10.00  Field visit 5: Introduction to the Sursock Museum, its Library and Archive
10.00 – 11.30  Theoretical considerations III: The Act of Creation: New media for considering biography: material and performative arts (led by Kirsten Scheid) (in the library)
11.45 – 12.45  Project presentation V
Working group A: (in the library, plenary)
Michelle Wun Ting Wong (The University of Hong Kong): The Work of Hong Kong Artists Ha Bik Chuen
13.00 – 14.20  Lunch at Bavaglino
14.30 – 16.00  Plenary session III (moderated by Kirsten Scheid): A talk by Jessica Gerschultz (University of Kansas): On Weaving and Deciphering the Biographies of Artists (in the auditorium)
16.45 – 18.45: Film screening and discussion: The Three Disappearances of Souad Hosni by Rania Stephan (Beirut Art Centre), hybrid
Tuesday, 7 June (OIB)
10.30 – 12.00  Field visit 6: Guided visit of the Lebanese National Library, led by its director Hassan al-Akra
12.30 – 14.00  Lunch at the OIB
14.00 – 16.00  Project presentation VI
Working group A:
Iman Al Kaisy (University of Toronto): Libraries and Papers of Their Own: Auto/Biography, Memoir, and Arab Women Writers
Working group B:
Pierre France (OIB): Takrim and Mudhakirât, the Two Faces of Living Memory: Books of Memoirs, Memory-Related Social Events and the Staging of Capital in the Self-Narratives of Lebanese Elites (1950-2020)
Ali Musa (Birzeit University): Memory of Childhood Place in the Palestinian Self-Writing
16.00 – 16.30  Coffee break
16.30 – 18.00  Concluding discussion
18.30  Farewell dinner at Sporting Club
Wednesday, 8 June
Departure